We are thrilled to have Stacey and Mark's Stone Manor wedding published in The Knot Magazine…on newsstands now!
It was such a blast working with Stacey and Mark's on their spring wedding at the beautiful Stone Manor Estate in Malibu.
We love a couple that's not scared to create a splash with the use of colors.  The fuchsia, royal blue, and yellow combination are perfect for a Spring or Summer wedding.
A beautiful reminder throughout the day was the use of Gerber daisies in memory of the bride's mother.
Ab Fabulous Vendors
Still looking for your wedding palette? How about Radiant Orchid? Color of royalty, creativity, rebelliousness, and femininity.  Check out the inspiration board from The Perfect Palette below.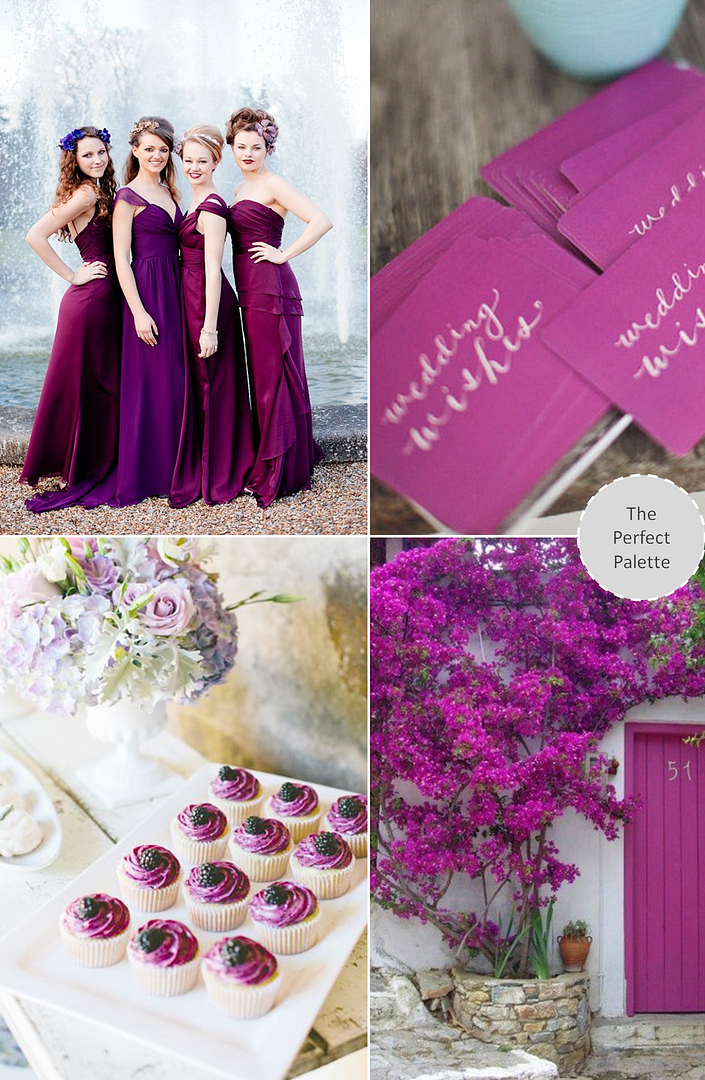 We'll be volunteering at the Brides Against Breast Cancer Charity at Brookside in Pasadena tomorrow.
The two day event allows planning brides to browse wedding dresses at a fraction of the original cost with the proceeds going to this worthy cause. Without the support of boutiques and previous brides who donated their dresses, this event would never have been possible. It's nice to see today's brides giving their dresses a second life and helping out a great organization.
Most gown prices range from $99 to $799 with designers gowns valued up to $3,900. If you have already said "I Do," please consider donating your gown to BABC, and your donation is tax deductible.
Photo Via: Frosted Events
Silver Bells it's Christmas time in the city!  To keep this look fresh a pale white canvas lets the silver pop.
Gray & Silver Christmas Tree Sitting Room (top left)
Glittery Silver Candles (center right)
Silver Ornament Wreath (center left)
Gray Stocking (center)- Coffee & Cream
Gray Gift Wrapping (center right)
White & Silver Ornaments & Bells (bottom left)- Francine Zaslow
Sparkly Reindeer (bottom right)- Elizabeth Embellishments
Joyce and Sebastian are the perfect picture couple!
The photo were taken at the Viceroy and Santa Monica Beach by Wayne & Angela.  We are looking forward to sharing their wedding at Shutters on the Beach.
It's that time of year again!  Monique Lhuillier will be having our semi-annual sample sale this Sunday, December 8th at a pop-up shop in downtown.